What does it take to feed and clothe every person, every day, all over the world? Learn more about how we support to innovate for sustainable agriculture. Here are the stories of the Biggest Job on Earth: Farming.
How Can Precision Farming Fill Rice Bowls?
The perfect storm is brewing over the fertile agricultural lands of Japan: A limited amount of farmable land, and ambitious political targets on reduction of chemical pesticides and fertilizers, at a time when workforce is aging and farm consolidation ongoing. And then, there is climate change. But Japanese farmers are in a unique position to be part of the solution. Digitalization and smart tools enable them to improve crop production, reduce emissions and increase farm resilience.
Why a Full Weed Control Toolbox is Important to All of Us
Imagine you're a mechanic- toolbox full of essentials: various size wrenches, screw drivers, drills. But one by one your tools get rusty, wear out and break until you're left with very few. You're now infinitely less efficient at your job of getting people back on the road. That's what it's like for farmers today facing weeds that are becoming resistant to herbicide treatment. What they need are multiple modes of action, or tools in their toolbox. It's how they stop growing weeds and start growing the crops that make our food, fuel and fiber.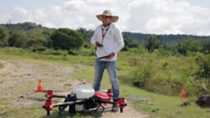 Ready For Takeoff: How Drones Bring More Safety To Farming
The answer to many challenges of farmers in Latin America is smaller and nimbler than you may think: Drones can support farmers and large fruit producers in the Global South to protect their crops, improve their productivity, and achieve greater profitability. Drones can enable more precise applications near buffer zones and reduce operator exposure to agrochemicals. In Colombia and Ecuador, BASF is helping to establish networks of partners, including the farmers. Through these collaborations, profitability and safety are improved throughout the agro ecosystem.
Natural Partners: How BASF's Biologicals Lead to More Sustainable Food Production
Biological crop protection is an important step forward to further support sustainable agriculture – and BASF plays a vital role with its BioSolutions portfolio. Being used as a complementary or an alternative to conventional crop protection products, biologicals not only help farmers meet society's ever-growing demand of more sustainably grown food, but also enable healthy plants through natural partners, such as beneficial nematodes. Follow us on the journey and learn how biological crop protection works, how BASF is advancing its portfolio and why biologicals are one important tool of many that farmers need to protect their crops.
Growing Crops, Not Emissions: How Carbon Farming Could Help Tackle Climate Change
Carbon farming is seen as a solution to mitigate climate change by promoting practices that that avoid releasing greenhouse gases into the atmosphere as well as those that sequester carbon. Kasey Bamberger, a third-generation farmer in Ohio, talks about the US carbon farming craze and the farm's experiences that promote soil health and keep carbon in the soil.